HAVEN and  SATYA have collaborated to offer a unique opportunity for the Seacoast, Trauma Sensitive Yoga. The classes are taught by Rochelle Jewell, E-RYT (Kripalu Certified Yoga Teacher) and Sarah Sherman (RYT). Certified HAVEN Advocates are available to provide additional support throughout the program.  

Trauma Sensitive Yoga offers techniques such as mindful breathing and development of an upright, well supported spine without utilizing hands-on physical assists.  TSY is a practice that is adaptable to all age groups and levels of physical abilities.  It is a way to become more comfortable with one's body in a safe, supportive and non-judgmental environment. 

To apply, please fill out the form below and mail it to HAVEN at 20 International Dr., Suite 300, Portsmouth, NH 03801. For more information about applying, please call HAVEN's 24-hour confidential hotline: 1-603-994-SAFE (7233) or visit their website.
Dover: Thursdays at 6:00 - 7:00 p.m.
May 4th-June 22nd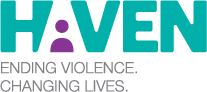 ---
What can I expect from a Trauma Sensitive Class?
TSY offers a way to become more comfortable with your body
Classes are held in a safe, supportive, non-judgmental environment
TSY cultivates strength and flexibility while encouraging students to take care of themselves and not force through pain or strain
There are no hands-on physical assists in SATYA's TSY classes.
TSY is adaptable to differing levels of physical capacity
Practice can be done in a chair or on a mat
How do I prepare for a Trauma Sensitive Class?
Please arrive about 5 minutes early to get yourself organized
Wear clothing appropriate for physical activity (t-shirts, sweatpants or whatever is comfortable)
Yoga gear (mats, blankets and blocks) will be provided but please feel free to bring your own mat or blanket if you wish
You may bring water in a closed container